Protect your health with Wild Blueberries
We are an Australian owned business located in the South West Margaret River Wine region, and we have sourced the best Wild Blueberries from Nova Scotia - Canada,  so that you can benefit from the healing properties this powerful super berry has to offer!
Unlike regular blueberries, our A Grade, low-bush Wild Blueberry powder and dried chewy Wild Blueberries are not planted. They only grow wild, where Mother Nature put them! 
The harsh climate and what it takes to survive in it, gives our Wild Blueberries the high level of antioxidants and potent blueberry taste that regular blueberries can't match.
These potent little berries combat stress in the wild by producing powerful phytochemicals like anthocyanins to protect themselves.
These are the same natural plant compounds that protect us from inflammation and chronic disease when we eat them.
FREE EXPRESS SHIPPING on Australian domestic orders over $140+ (automatically applies)

We also now Ship to New Zealand!
Smoothie bowls are a great way to enjoy our wild blueberry powder
Stress . Brain Health . Gut Health . Liver . Immune System Support . Heart Health . Nervous System Support
Our A Grade, low-bush Wild Blueberries are free from herbicides or pesticides of any kind.
They are picked, immediately frozen, then dehydrated at very low temperatures, preserving their nutrients and sky high levels of antioxidants. 
Resilient Health Wild Blueberry powder only contains one ingredient - dried Wild Blueberries (in its entirety - pulp, skin & seeds!)
The recommended daily intake of two teaspoons equates to one full cup of fresh Wild Blueberries!
And you'll be happy to know, that in every 150gram pack of our Wild Blueberry Powder, is the equivalent of approximately 22 cups of fresh wild blueberries! 
Our Wild Blueberry powder is made from A Grade low-bush whole Wild Blueberries (pulp, skin & seeds) Wildcrafted & Pure! (NO pesticides, ever.)
"This is such an amazing health giving product - so happy to finally be able to source this easily in Australia. Highly recommend"!
"Since taking Wild Blueberry Powder, my muscle pains have reduced by around 60%. My memory is better &  I feel more energetic. Both my kids & Hubby love it! Definitely worth giving a try and watching how it transforms your health"!
I bought this Wild Bluberry on the recommendation of Medical Medium when my body felt like it was breaking down. My joints were seizing up & this was one of the main changes I made to get better (along with celery juices!)
I still love it now, it's deliciously sweet, not like our usual Aussie Blueberries.
Best Wild Blueberry Powder I've ever received here in Australia and Natalie is one of the most beautiful souls I've encountered on my healing journey!

What a delight it is just to buy Wild Blueberry powder and the chewy Wild Blueberries from Nat ... and the product itself is amazing!
Love love love your products!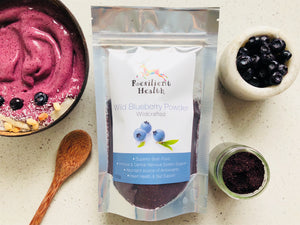 Wild Blueberry Powder (Choose your size below!)
Sale price Price $43.95 Regular price $0.00
Dried whole chewy Wild Blueberries
Sale price Price $29.95 Regular price
Want 10% off your first order? SUBSCRIBE to our mailing list below !